John Muir Trail Adventure Journal: Day Three
Lyell Forks to Trinity Lakes
Approximately 20.5 miles. Cumulative: 53 miles.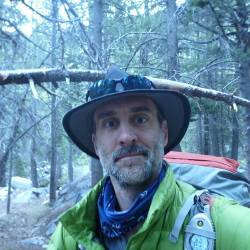 Up with the sun and on the trail shortly thereafter. It pretty consistently took me about half an hour each morning to break camp. The mornings were still chilly, so I bundled up and started walking. The trail was uphill for a little over a mile before it leveled out.
And this is when I had that feeling. Yes, you know the one. I wasn't looking forward to pooping in a hole, but from what I was feeling, it couldn't be helped.
The regulations one agrees to when hiking the John Muir Trail stipulate that human waste deposits must be made 100 feet away from trails, camp sites, and water sources. This can be a challenging set of criteria. Once you find a suitable spot, you dig down six inches and do your business there, then bury it. Sounds simple enough—until your poop shovel breaks halfway through your first dig. So I made do with the jagged bit still attached to the handle and got the job done.
The other mandate to the whole solid excretion process is that you have to pack out your used toilet paper, which sounds about as fun as it was. I double-bagged mine and stashed it in an external pocket on my pack. Then, I applied some hand sanitizer. Yeah.
If you want to know more about the fine art of backcountry elimination, there's a book for that.
Once that was done, I got back on the trail and a short distance later, discovered a series of nice campsites, which would have been an ideal place to spend the night. Now I know. And immediately after this, I crossed the bridge over the Lyell Forks and headed off to Donahue Pass, my first pass (of eight).
But before I got there, I had to step across a rock path at the mouth of a stream fed by a small and climb up a series of switchbacks.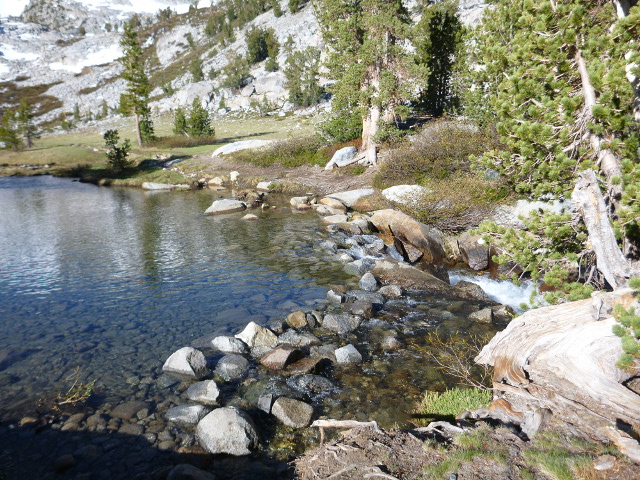 About halfway to the top, I made a breakfast and water-refill stop. A fat yellow-bellied marmot was interested in the oatmeal I was cooking and waddled over to investigate. Like the deer, these things are quite common along the trail and relatively unafraid of humans. I didn't give it any food, but he tried hard to steal some.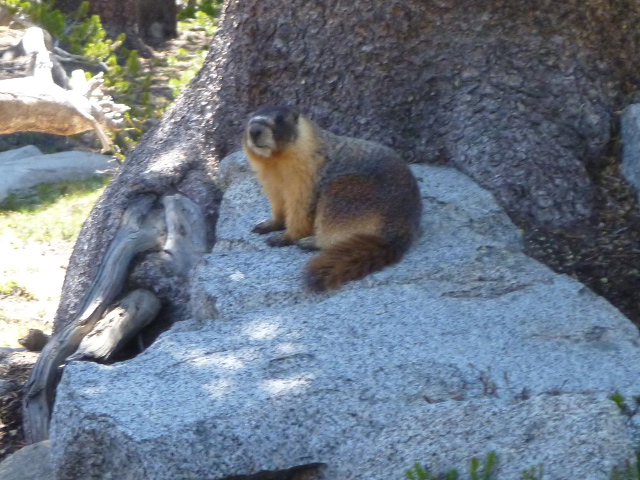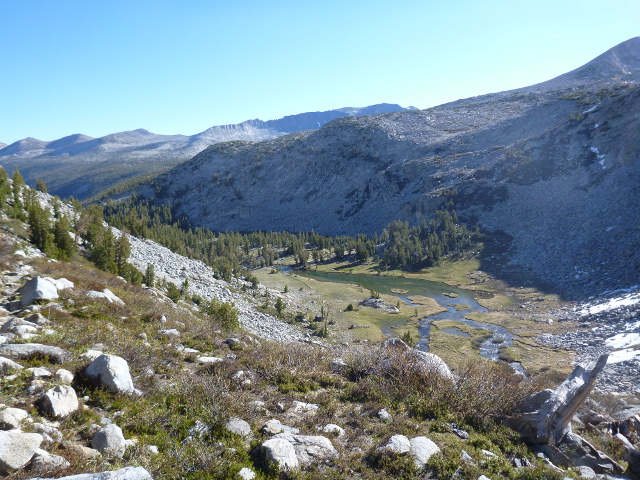 As I climbed up to the pass, I encountered my first bit of snow. There wasn't much, which I'm told is relatively unusual this time of year; the winter of 2011-2012 was a low-snow winter, so there was less snow on the trail overall. At the top of the pass, the trail sort of disappeared in the scree, but I was able to dead reckon my way without too much trouble.
There's something exhilarating and rewarding about clearing a pass, so I was looking forward to Silver Pass (which I wouldn't clear for two more days).
On the way down the other side, I ran into a hiker who went by the trail name of Late Start (on account if his late starts on the Appalachian Trail years ago).
A bit about trail names.
There are rules to these things.
You can't name yourself.
You can't decline a trail name.
It should have some meaning and/or describe you, be it a good thing, a bad thing, or just a humorous thing.
Once you have one, you're stuck with it for life and it follows you from trail to trail
Not all who have trail names abide by these rules, but everyone I talked to who used a trail name earned them by these rules.
Me, I never earned a trail name, and I have mixed feelings about this. At the time I didn't really want one, but now I regret not having one. It's a lot easier to remember trail names than real names.
Anyway, Late Start was suffering from altitude sickness or some similar malady. He couldn't breathe, couldn't find the trail, was looking to get down below 8,000 feet. That would be a challenge for him as the last time I saw 8,000 feet was 10 miles outside of Yosemite. I told him I was concerned, but he said he'd endured worse and regaled me with a few tales of concussions and broken ankles he endured on other hikes. He seemed as much hard luck as late start. So I pointed him to the trail, wished him well, and shouldered on.
I soon ran into a PCT hiker from New York. I don't remember her name, but I do remember she was talking on her phone. While chatting with her, I pulled out my phone and flipped it on. Sure sure enough, I had a two bars on the Edge network. Good enough for a quick call to the wife, which surprised her. It was nice to hear her voice.
I hiked on, over Island Pass (which doesn't' count as one of the eight big ones) and down to Thousand Island Lake (John Muir called it Islet Lake), which sits at the base if Banner Peak. It was beautiful.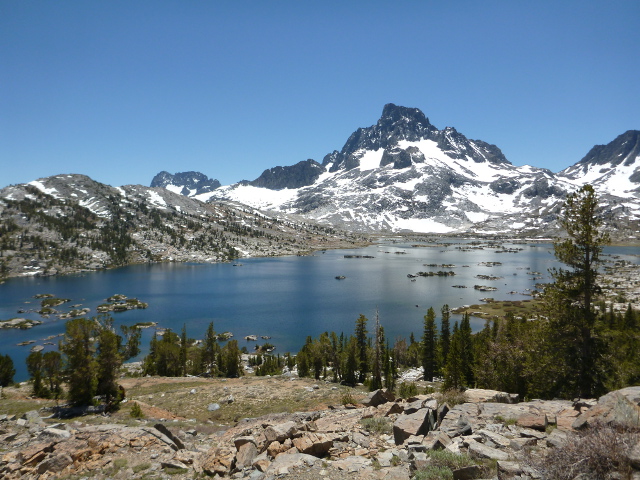 Once I passed through Donahue Pass, I entered the Ansel Adams Wilderness. I'm nowhere near even half the photographer Ansel Adams was. He shot Banner Peak from this location in 1923.
After Thousand Island Lake, the PCT and the JMT split and don't re-join until Devil's Postpile. Other hikers I'd met advised me to take the PCT because of all the blow-downs along the JMT (more on this in tomorrow's post). I sat and had lunch where the trails diverged to consider which path to take. As I mentioned on Day One, I'm stubborn and wanted to do the entire JMT.
So I did. I passed a series of gemstone-named lakes: Emerald Lake, then Ruby Lake (gorgeous), then Garnet Lake, which, like Thousand Island Lake, was dotted with small islands.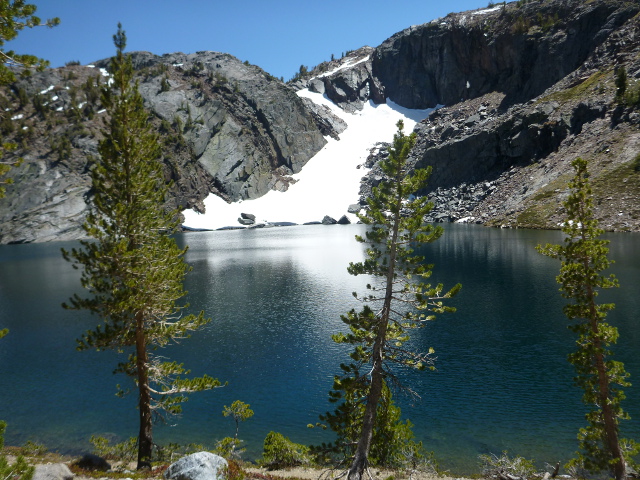 After Garnet Lake, the trail descended to Shadow Lake, which was another gorgeous lake. It looked very inviting, and camping on its banks would have been fantastic, but there was no camping allowed there. It was still early, anyway, so I kept on walking. The trail climbed after Shadow Lake, and pretty steeply, past Rosalie Lake and Gladys Lake. I also had to step over a few blow–downs along the way, so the going was a bit slower than I would have liked.
I stopped for a snack and saw I still had a few bars on the cellphone. So I called home and talked to my daughters for a few minutes. That gave me a little extra energy, so I walked a bit more until I came to a likely campsite near the Trinity Lakes. It seemed as good a place as any to stop, so I made camp, made dinner, and went to bed. I fell asleep almost immediately.