John Muir Trail Adventure Journal: Day Five
Deer Creek Crossing to Lake Thomas A. Edison
Approximately 22.9 miles. Cumulative: 87.6 miles.
The mornings were still chilly but getting steadily warmer. I got up at the usual time and broke camp quickly. I encountered a few more minor blowdowns as I hiked along that morning, but nothing like I'd experienced the morning before.
Not too far out of camp, I encountered a PCT hiker who went by the name of Buster. We didn't stop to talk, but he's got a distinctive look, so when i saw his video recapping the people he walked with along the Pacific Crest Trail, I recognized him immediately. While I'm not in the video, I recognize many of the hikers who are.
Even though I didn't really feel like eating, it was time to stop for breakfast. I didn't want to let my caloric intake slip; that way lies madness. I started thinking I was experiencing low grade altitude sickness. I choked down my oatmeal, glad to be heading down below 8,000 feet for a few days.
As I packed up, I noticed my SPOT Connect telling me its batteries were low, so I swapped those out before heading on down to Duck Creek, where I filled up my bottle that had once held the soda water; I'd drank it all on the nearly 8 miles I'd gone that morning. It had made for pleasant drinking.
As I refilled the bottle, I noticed a cool rock formation Rising high above the trees behind me. This was The Thumb, one of my favorite-named rock formations.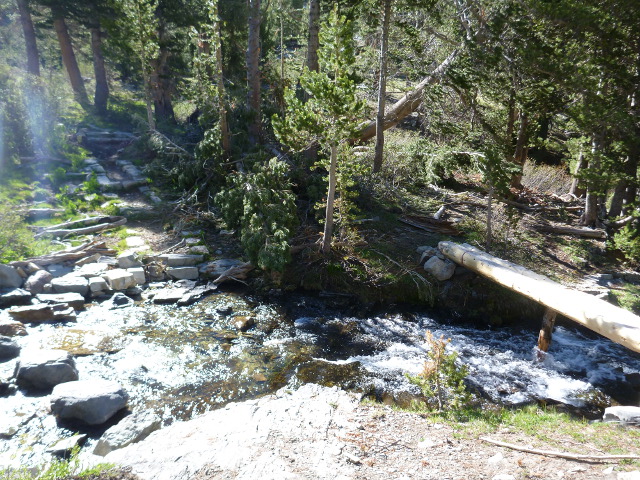 Yet more note about the blowdowns. Along this part of the trail, I was almost constantly dealing with obstacles that had fallen across the trail — some easy, some challenging — all the way to the climb up to Squaw Lake.
Next up was Purple Lake, and this was where the fallen trees really stacked up. The trail down the slope to the lake was totally obliterated by something like 80 trees, making it difficult to get down the hill. I didn't want to take another fall, so I moved slowly through here. I tried taking a photo, but it didn't really convey the devastation.
Back on this bird thing. Another bird I've always been fascinated with is Clark's Nutcracker. I'd never seen one prior to this hike, but I got to see a few, especially today and always from a distance. My photos didn't really turn out, but it sure was a kick to see them.
After this, the trail led to Virginia Lake. Along the way there, I chatted with two British PCT hikers, a man and a woman. They recommended the Packer's Breakfast at VVR. It sounded like a fabulous meal — much better than oatmeal — and really got me looking forward to stopping there (full details tomorrow). They warned me that the place was expensive though, which I'd heard from a lot of people.
Shortly I arrived at Virginia Lake, jsut in time to see a fellow coming out from the nearby scrub with a small shovel and roll of toilet paper in his hands. Ah, nature. Virginia Lake was yet another beautiful lake in a series of beautiful lakes I'd walk by that day. It seemed like a good place to take a short break. In preparation for the trip I made up a seed-and-nuts concoction with all my favorites: almonds, peanuts, sunflower seeds, all salted, pre-packed into convenient 300 calorie servings. Even though I love all those things, it was all I could do to force myself to eat a serving. I filled a water bottle and kept going.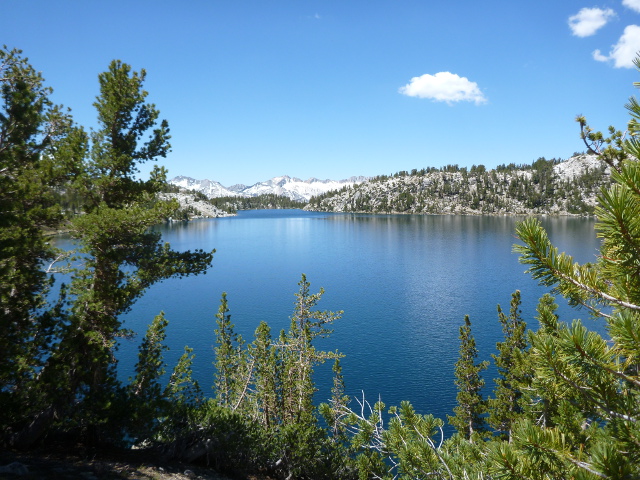 From Virginia Lake the trail started to descend into the lush green meadow of Tully Hole. The trail down was hot and fully exposed to the afternoon sun. It reminded me of some of the trails I hike regularly in the Angeles National Forest, and the PCT hikers making their way up looked overheated in the beating sun. Many were going slow. I was glad to be going down.
Tully Hole was home to many mosquitoes, my first taste of the tenacity of these little beasts. They were much harder to ignore than the few I encountered way back in Long Meadow on my first day. Fish Creek
After I crossed Fish Creek, I was feeling a little run down, so I decided to stop for lunch. I tried to take in at least 500 calories at lunch.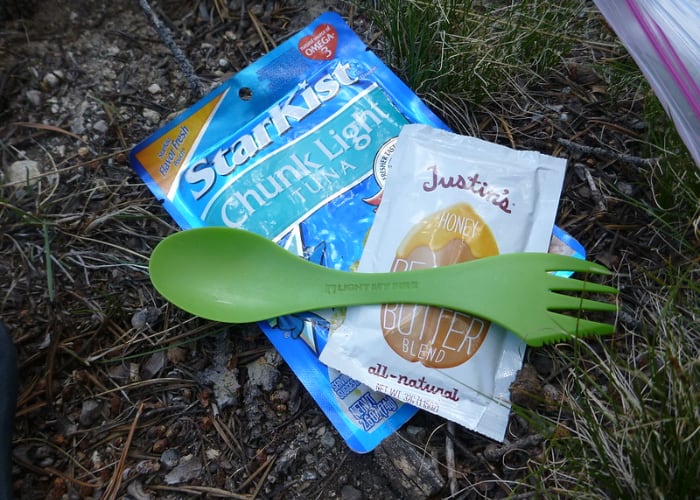 I even took off the shoes and socks and put my feet up for a bit.
Small break over, I started the uphill climb to Silver Pass, the second major pass on the trail. The going was slow. A seemingly endless supply of fallen trees blocked the trail, and each new turn brought a new challenge.
And then there was the rapidly building cumulonimbus clouds coming up over Silver Pass, right where I was headed. Conventional wisdom states that you don't want to be the tallest thing in a pass in the Sierra Nevadas during a thunderstorm.
After a relentless climb and countless downed trees, I made it to as series of lakes named for what white people thought of as traditional roles for the Native American people.
Right before Squaw Lake, I found this cute little rock chair. It didn't actually look comfortable, but I thought it was neat anyway.
And then Squaw Lake, a smallish but serene body of water. The larger Warrior Lake was Behind a ridge in back of Squaw Lake. I couldn't see it from where I was, but I could hear flowing water draining down into Squaw Lake.
After hiking along Squaw Lake, I came to a trail junction. One way headed off to Silver Pass, where I was going, and the other led to the Lake of the Lone Indian, which remains one of my favorite lake names from the hike. I would have loved to see it, but it was in the wrong direction, so I moved on past Chief Lake, Papoose Lake, and then finally Warrior Lake.
As I continued my climb up to Silver Pass, I saw a guy hoofing it past me who had a bag of Fritos strapped to his pack. I'm not normally a Fritos guy, but I don't think I ever found any processed food more beautiful than that bag of Fritos. I promised to get one for myself when I got to VVR.
Not long after that I was climbing up Silver Pass, which still had a good amount of snow cover it, which made the crossing a little harrowing. The only spot on the trail I thought that having an ice ax – or at least a second pole (remember, I was down to one since the previous day's accident) – would have been a good thing.
But I made it through without incident, only to be confused when I got a little further down the mountain. There were two paths, but I only saw one on the map. It wasn't immediately apparent which way I should have been going, So I resorted to a dead reckoning again, something I've always been pretty good at.
I worked out okay, because after I passed that junction, I saw a hiker coming my way. I stopped and talked to a her; she had just gotten off the evening ferry from VVR (good news for me; I wasn't far) and was hoping to get over Silver Pass before nightfall. Then, about half an hour later, another hiker, a guy, stopped to ask if I'd seen a girl go by. I told him I had. He asked how far ahead she was. I told him about half an hour, maybe. He told me he was going to try to catch her. It wasn't the last time I'd talk to a guy trying to catch up to a female hiker. Ah, love on the PCT.
I bumped into a hiker wearing a pretty snazzy fedora. We chatted for a few minutes and went our separate ways. Only later did I find out that this was Tuna Helper, the gent going for the PCT speed record in 2012. Once I knew that I was surprised he talked to me as long as he did. In the end, he didn't beat the record, but I think he did set a record for getting through California.
The sun was coming down, and after I'd negotiated my way across Silver Lake Falls, i spotted a nice campsite and was considering settling down for the night. I had to be at the ferry landing by 9:45 a.m to catch it. I was close enough, I figured, I could make it with time to spare.
As I was about to start setting up camp, a couple of hikers wandered by. They told me I could get cell coverage at the lake. I thought about how nice it would be to talk to the family, so I got the pack back on and double-timed it to the ferry landing.
It was a little longer than I thought, and I had to cross Mono Creek, which was tricky (I got a little wet), but it was all worth it when I saw this sign.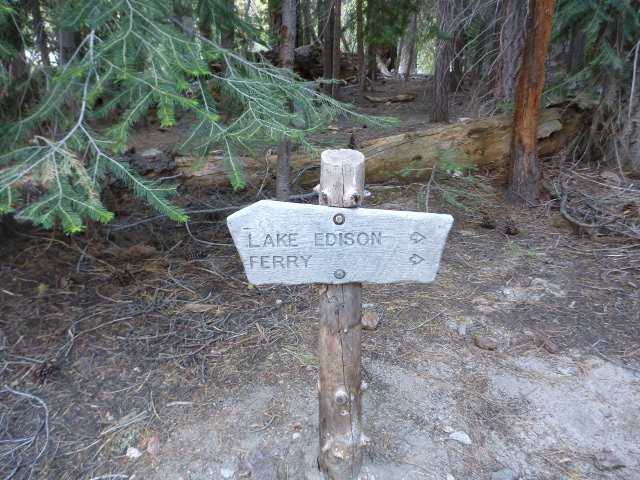 By the time I got to the landing it was getting dark. I quickly set up camp on the beach and made a quick dinner. I considered starting a fire, but it was already late, I was tired, and didn't have a lighter anyway. So I called home to talk to the family and zonked out shortly after that. It had been a good day, even though I didn't eat enough food. But I'd fix that tomorrow.