Seven (More) Crazy Coffee Contraptions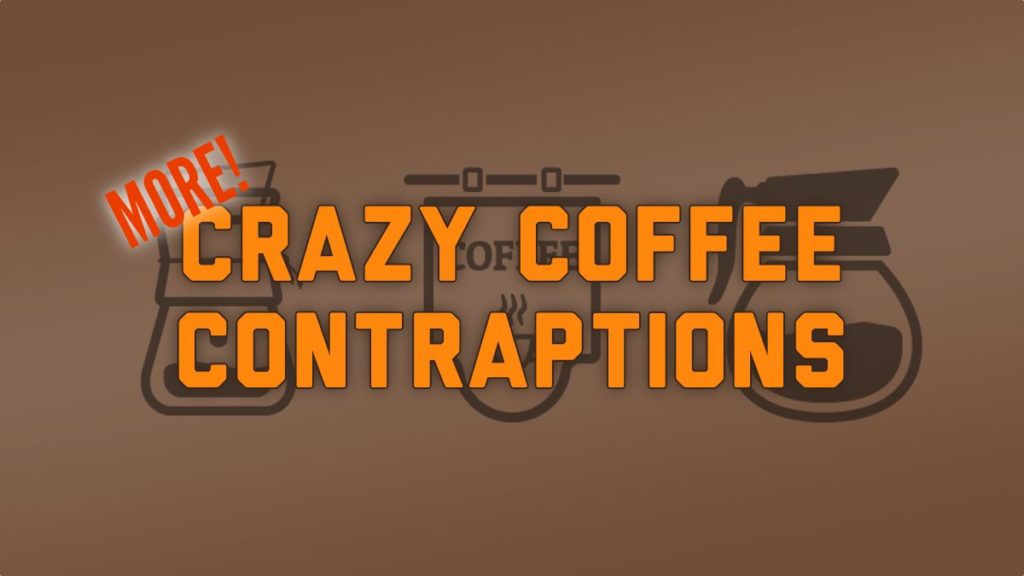 More Weird and Wonderful Ways to Make Coffee
Since the last time we took a look into the world of often needlessly complicated crazy coffee contraptions, things have gotten even crazier.
Making a perfect cup of coffee is relatively easy and inexpensive task. Despite this, enterprising people seem to find ways to make this simple process more costly, more time consuming, and loaded with excessive steps.
Here then, are seven more crazy coffee contraptions for your consideration.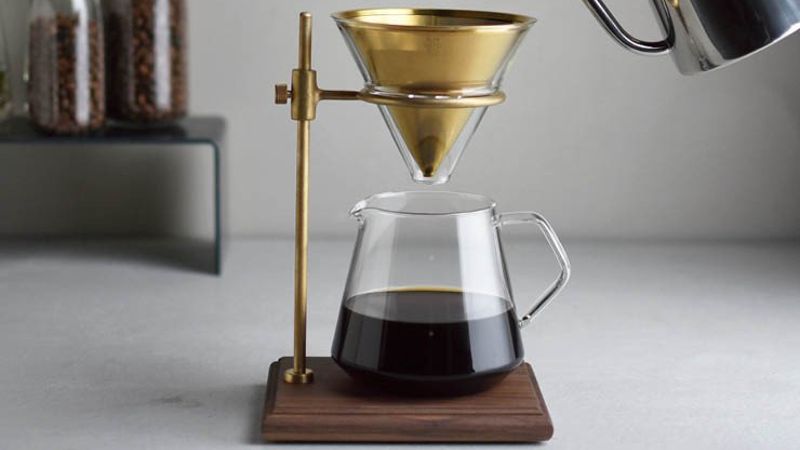 The minimalist pourover coffee contraption known as the Kinto Slow Coffee Brewer consists of a dark walnut base supporting a polished brass stand. The stand holds a glass brewing cone to allow for observation of the dripping process. This in turn holds a stainless steel filter. The accompanying glass server features tiny dots on the side indicating coffee volume.
The set also ship with a small glass container for measuring beans. This device pulls double duty as a resting place for filter when the brew finishes. Price: $188.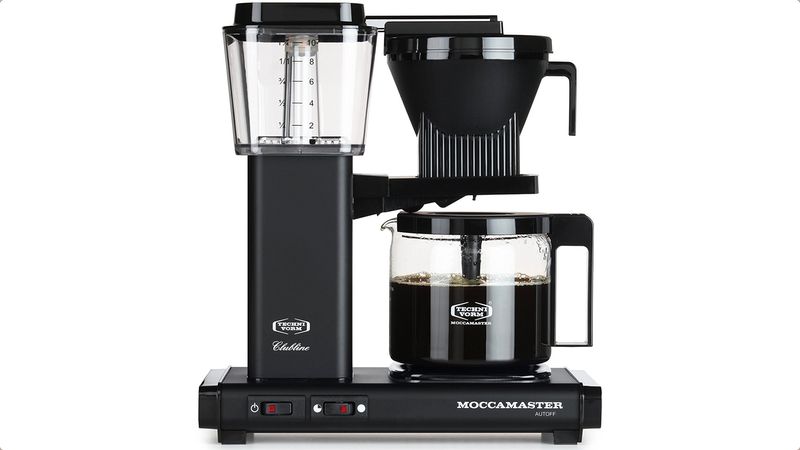 The Moccamaster brews a whopping 10 cups of coffee like any $20 coffeemaker from Target. But this upscale version brews those 10 cups in just six minutes with water that's heated to the optimal temperature range of 196 to 205 degrees.
It features a pre-immersion drip system that moistens the grounds in such a way that allows the coffee to bloom. The hot plate, another key element in this coffee contraption, keeps the liquid in the carafe at a gentle 175-185 degrees Fahrenheit for up to 100 minutes. Price: $330.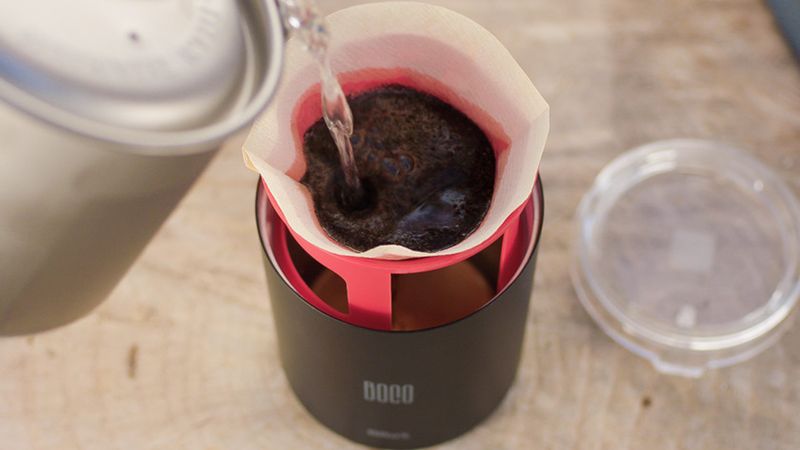 With the Brux Boco Pourover System, coffee loving hikers no longer need to make concessions to coffee quality when out on an adventure.
With this contraption, one is able to brew and drink coffee using just a single device. This stainless steel, vacuum-insulated bottle (in conjunction with its gasket-sealed plastic lid) will keep coffee hot for hours. It holds 20 ounces of coffee. Price: $70.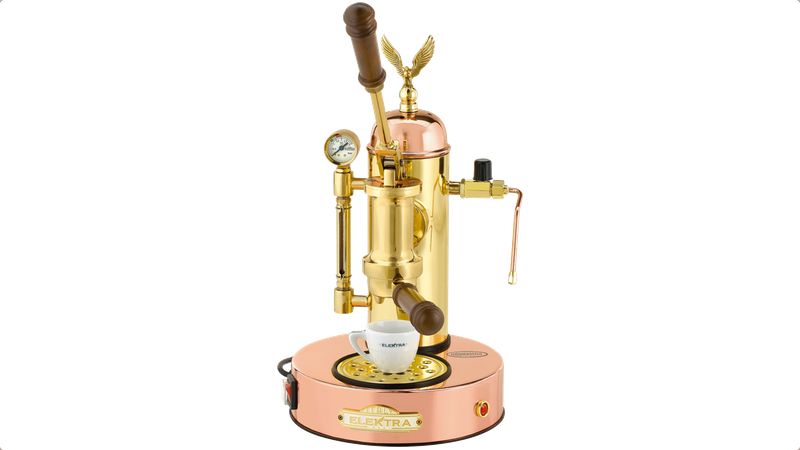 The Elektra Micro Casa Leva S1 is a classic handle-operated espresso machine direct from Italy. Elektra has been making espresso machines since 1947, and their iconic eagle stands vigil in countless coffee bars throughout the world.
The Casa, their home edition, comes in three different versions: chrome, copper-brass, and chrome and brass. Priced at $1,550, this one's for serious espresso aficionados only. But check out that superb pressure gauge!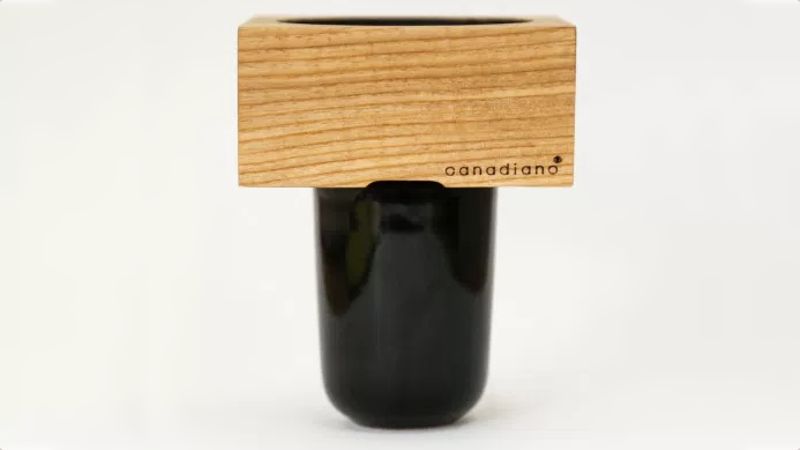 The Canadiano is a simple wooden coffee brewer that makes just 250 ml (about nine ounces) of coffee per brewing. Carved from a single block of charred and smoked Canadian White Ash, this coffee contraption offers what the company promises to be a unique gastronomical experience.
To keep the grounds out of your cup, the brewing coffee flows through a surgical-grade stainless steel filter after filtering through the wood. If you fancy your coffee brewed with the natural flavors of wood, this is the contraption for you. Price: $125.
Perk Coffee Brewer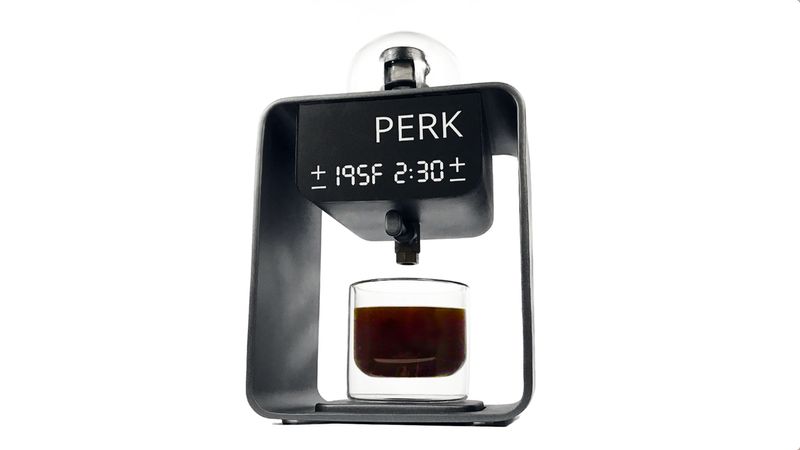 The Perk Brewer was initially designed for astronauts to brew coffee in low-gravity environments (like, you know, space). This coffee contraption, which can allegedly be completely 3D printed, claims to fully automate the entire pourover process.
495 people ignored the idea that making a pourover coffee doesn't really need automation and funded the Perk through Kickstarter.
However, the device missed its original ship date of March 2018, and now the inventors seem to have stopped responding to backer queries. Considering the website has gone dark, we may never be able to experience the bliss of zero-G pourover automation. Price: $300.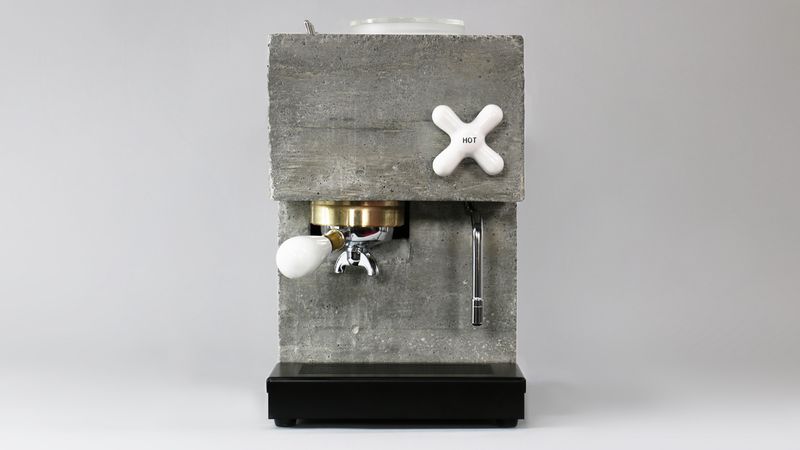 The Anza Concrete Espresso Machine is, as the name suggests, an espresso machine made from concrete. This coffee contraption, the result of another Kickstarter project, was also initially scheduled to show up in March 2018. The the ship date has been updated to August 2018, but unlike the Perk above, the inventors of the Anza continue to update their backers. So you may yet be able to own the densest espresso machine ever made.
Interested buyers who missed out on the Kickstarter campaign can snap one of these up from the Anza store for $1,365.