The Manhattan
When it comes to bold, boozy drinks, the Manhattan is king. It's a classy, civilized drink that's easy to make and easy to drink. Maybe too easy.
Like many drinks that date back to the nascent days of cocktail crafting, there's a bit of mythology about this drink's creation. The most oft-repeated lore has Winston Churchill's mother inventing it one night in 1874 at New York's The Manhattan Club. The problem with this story, though, is Mrs. Churchill was in Oxfordshire at the time, giving birth to her son.
The numerous variations of the Manhattan's origins takes up seven pages in Wondrich's Imbibe!, and about the only point anyone can agree on is that the Manhattan is definitely a New York cocktail.

Manhattan Ingredients
2 oz. Rye Whiskey
1 oz. Sweet Vermouth
2 dashes Aromatic Bitters
While there are many different variants, the classic Manhattan calls for a rye whiskey, preferably something bottled in bond. This means the liquor in questions comes from a single distillery during a single distillation season and is aged for at least four years in a federally supervised, bonded warehouse. Then it's bottled at 100 proof.
For bonded rye whiskeys, Rittenhouse Rye is a solid choice (which I've used here), and one that's often on my shelf. That said, my most common choice for rye whiskey is Michter's Rye, which is only about 85 proof but has a nice spicy flavor.
When it comes to vermouth, I've borrowed a page from the fine folks at Death & Co. and make a blend using equal parts Dolin Rouge and Punt e Mes. This makes for a vermouth that's bold yet smooth with a slight bitterness can stand up to high-proof whiskeys.
Lastly, the classic aromatic bitters is Angostura, and there ain't nothing wrong with that. Lately, though, I've been using Fee Brothers Aromatic Bitters, just to mix things up a bit.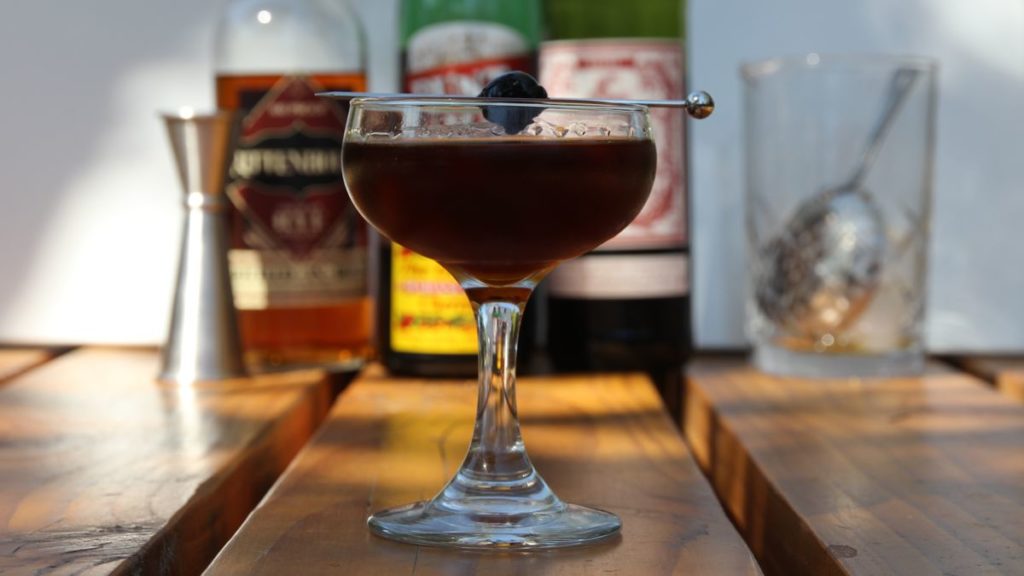 How to Make a Manhattan
The Manhattan is a stirred drink. Combine all the ingredients into a mixing glass, add a good amount of ice, and stir for 40 or so revolutions, about 30 seconds. Strain into a coupe glass and garnish with a Luxardo Maraschino cherry — the only cherry worth garnishing with.
Now that's a civilized cocktail.
---
Bar Essentials
The original and best cocktail cherries on the market. Don't mess around with anything else.
---