John Muir Trail Basic Needs: Clothing
The traditional list of immediate human basic needs is commonly given as food (including water), shelter, and clothing. And while that list is very simplistic, it does pretty much sum up what one needs to survive in the backcountry. So this is how I covered those basic needs during my 13-day hike of the John Muir Trail.
Basic Needs: Clothing
Here are the 13 pieces of essential clothing I carried with me on the John Muir Trail.
1. Goorin Brothers Honey Creek Fedora. A great adventure deserves a great hat, and this was my hat of choice. It was a great hat, but it wasn't the perfect hat. I was worried that it wasn't compressible (like a wool crusher) and it didn't have a chinstrap (like the Outdoor Research Seattle Sombrero). So I rigged up a medium binder clip with a Nite Ize No. 1  S-Biner to keep it attached to my pack when it wasn't on my head. A low-tech solution, but it worked.
2. SmartWool Beanie. The mountaineers say "When your feet get cold put on a hat." But I've found it's better to start the day with the hat on your head to help keep your feet warm from the get-go. And this reliable piece of gear, which has gone on many adventures with me, was (and continues to be) the perfect thing to wear during the early mornings when the air is crisp and cold.
3. Outdoor Research Flurry Gloves. One of my favorite pieces of gear. I've had these gloves a long time, and they've never let me down. I wore them every morning.
4. TrekSta Evolution Mid GTX Hikers. Shoes are a very much a personal choice. Everyone's feet are different, and these worked for me. There's a lot of debate about Gore-tex or not, and I'm still on the fence. But I can tell you that I didn't get a single blister after 212 miles in these shoes, even though my feet did get hot during the warmer, sun-drenched parts of the trail, like when I descended into Tully Hole. My feet were a little tender at the end of the trip, and even though I opted for a mid-hiker to help mitigate ankle injuries, I still sprained my ankle on Day 11. But most of the time I didn't even think about my feet, so overall I was pretty happy with these kicks.
5. Patagonia Merino 2 Lightweight Zip-Neck. I decided to wear wool partly because of its ability to insulate when wet, but mostly because it's got better odor control that polyester-based clothing. When you're going to wear the same thing for two weeks, it can get pretty rank. Even though I was traveling alone, a man doesn't always want to smell like a man — at least not so much. I don't think Patagonia offers this particular shirt anymore, which is too bad.
6. Patagonia Nine-Trail Shorts. I wore the one pair of shorts for the whole trip (but I did change underwear; see below). These were comfortable, but the pockets were a little shallow, and that's ultimately why I lost my mosquito netting (I shouldn't have kept it in a pocket anyway). But the pockets did hold a bag of peanuts and sunflower seeds just fine. Patagonia has since redesigned these, so they're a bit different. I have a pair of the new version I wear for running, but I'd still wear them on a multi-day hike. The Nine-Trail line is redesigned every year — and some designs are better than others.
7. REI Wool Hiking Socks. I started with two pair, rotated daily, but lost one sock on my fourth day out while negotiating the blowdowns between Shadow Lake and Devil's Postpile. I liked these just fine. Again, no blisters, so nothing to complain about.
8. Feetures Hiking Socks. I picked these up at VVR to replace my lost REI sock (I dropped its unpaired companion into the VVR Hiker Barrels). These are mighty comfortable, and they soon became my favorite pair of socks.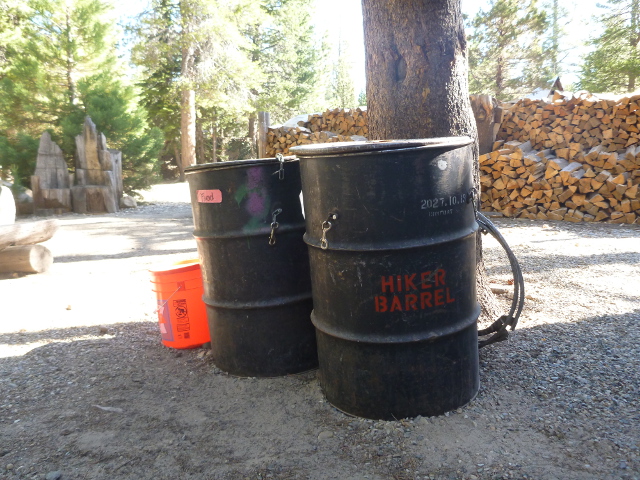 9. Some Patagonia compression shorts they don't make any more, two pair, rotated every morning. If I had to pick something today, I'd consider Saxx compression shorts or something similar.
10. Patagonia rain jacket. I never venture into the backcountry without a raincoat. Yeah, that's right — never. Because in the mountains, weather is fickle. And although I never wore it (except for the time I did laundry at VVR and didn't have anything else to wear), I was glad to have it. This was the Torrentshell line, but I don't think Patagonia makes that any longer.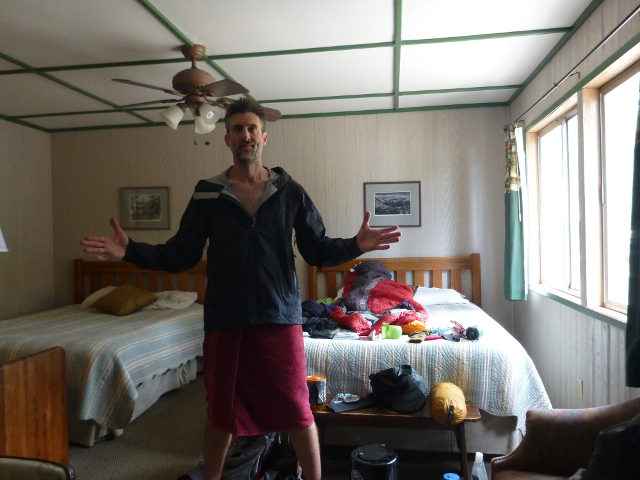 11. Patagonia Down Sweater. I foolishly considered not bringing this. But because it packs so small (about the size of a small cantaloupe), weighs a mere 12 ounces, and keeps me mighty warm, I decided to bring it along at the last minute. And I'm glad that I did; some mornings were a little chilly, and, at the end of the day, once the sun dropped below the surrounding mountains, the temperatures dropped quickly.
12. Patagonia Merino 2 Lightweight T-shirt. My other shirt. I rotated this and #5 daily with the idea that if it got really cold, I could double-up. But I was never that cold. Again, Patagonia doesn't make this particular item any longer, but plenty of other places do.
13. Pony Slip Ons. I didn't pack camp shoes on the advice I got from Andrew Skurka's book. But by the end of the third day, I was wishing I had a pair of lightweight shoes to knock around camp at night. So I picked these up at VVR for something like $12. I was happy I did.
I Almost Forgot …
Two other quasi-clothing items that were indispensable: Native Dash SS Sunglasses & UV Buff.
Sunglasses. The sun in the Sierras can be relentless, so you'd be wise to wear some sort of eye protection. I've been wearing a pair of Native Dash SS sunglasses on my adventures for more years than I care to count. I don't think Native makes them anymore, which is too bad; they fit my face really well. But the Dash XP might be a good replacement when I eventually break these.
The Buff. So many uses for a simple piece of stretchy cloth. When the days got hot, I soaked it in a mountain stream and slapped it on my head or wrapped it around my neck— evaporative cooling in action. And (bonus!) it kept my ears from getting sunburned. When I lost my mosquito netting, the Buff handily kept the pesky critters out of my nose, mouth, and ears. On occasion it served as an impromptu towel. It made a nice scarf when necessary. There are (at least) 16 different ways to wear this thing. Seriously, if you fancy yourself a hiker, buy one.
Now I know what you're thinking …
Yes, that's a lot of Patagonia gear.
But isn't that expensive?
It's not cheap. But I don't want cheap should things go wrong and I find myself in a survival situation. Patagonia gear wears well, lasts for years, and works as advertised. Plus there's a Patagonia store in Pasadena, so I can try the gear on (in different configurations, even) before I buy it. Which is a great thing.